Summer School Holiday Programme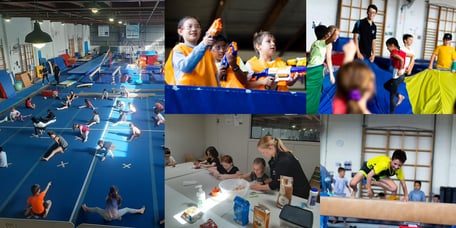 Dates Include:
WEEK 1: 18th - 22nd December
WEEK 2: 8th - 12th January
WEEK 3: 15th - 19th January
WEEK 4: 22nd - 26th January
WEEK 5: 30th - 2nd February
About Our Programme:
Our programme caters for all children aged 5 years and up - gymnastics experience is not required. Howick Gymnastic Club provides a fun, organised, safe and good quality school holiday programme. We do both gymnastics activites as well as Ninja Warrior Challenges, Nerf Wars, Baking, Science Projects, Crafts and many more exciting activites. You can find our schedule in the download box below.
Our staff-to-child ratios on site is 1:10. The programme operates between the hours of 8.00am and 5.00pm.
Pre-booking is required. All bookings are online through our website - please Register your child to make a booking. Due to staffing ratios, once bookings are made cancellations must be made three days in advance or refunds will not be issued. Please note that an admin fee for cancellation will apply.
To book click here: https://howickgym.co.nz/holiday-programme-booking
What to Bring:
Morning Tea, Lunch, Afternoon Tea
Water Bottle
Shoes
Rain Coats
Spare clothes/Art Shirt, for messy activites
Medication in clearly labelled bag - please sign medical form for medications
Payments
The price of the holiday programme is $50.00 for the day (8.00am - 5.00pm) and an invoice will automatically be issued through our system when you make a booking. Payment is required at the time of booking - credit card or internet banking preferred. If you are unable to pay online for any reason, you may pay by eftpos, credit card or cash at the gym office or at reception. Once payment is reflected in your account, we will process your booking.
Activities
To see our activities schedule please click on the PDF below: